Catkin After The Dance
Catkin After The Dance
During the 20's probably as a direct result from the austere war years, when the young went out .... they partied... they played lively music .. their tables overflowing with champagne, ankles on show and ...... fashion that seemed outrageous to the elder population.  ...no wonder the sale of smelling salts was so high! 


Catkin After The Dance is a
nother wonderful image of time gone by.  The dance is over, all the champagne has been drunk, and they are probably quite exhausted from all the energetic dancing they have done.  
Stitched in Blacks, Greys and Red with some super gold work on the ladies outfit. The design also includes a little bead work.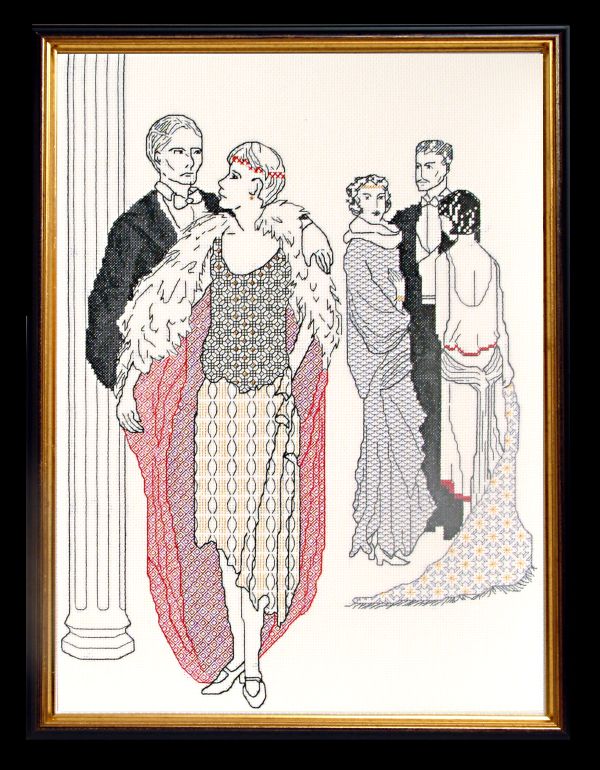 We do apologize, but this design is temporarily  unavailable. 
Please do not order until further notice.
If you would like us to let you know when Catkin designs are back in stock please send an email saying which design(s) you are interested in.  Thank you
Catkin:- "The evening is over and the gentleman will now escort his lady home"

Each Kit Contains:-

Large Scale B/W Chart
100% White Cotton 14ct Aida or 28ct Evenweave
DMC Threads 
Needle
Instructions 
Gold Filament
Beads
Stitch Size:-
17" x 12.5" 
 43cms x 31cms
Stitches Used
Back Stitch and some Full Stitch