Catkin Embroidery 
Catkin Embroidery is the work of Shan Harris who is well known for her glorious Blackwork ladies from all era's as well as a whole range of other designs including Cats, Butterflies and Flowers.
The first time I saw Catkin Embroidery was at the Spring Olympia show in London about 20 years ago.  Back then the organizers used to set aside an area downstairs for new designers and being I was always on the look for something new, at each show I would make a bee line for it.  It was exciting and a highlight I looked forward to very much as you never knew what new products or designs were going to be displayed.....and....I never knew if I was going to be lucky enough to stock them exclusively on my stand.

Catkin Embroidery had hit the ground running! 
Well I wasn't disappointed. As i turned the corner, there in all their glory was this wonderful array of blackwork ladies hanging from the wall.  A totally different style to anything else on the market, Shan's stand was drawing attention from many people who were just as in awe as me!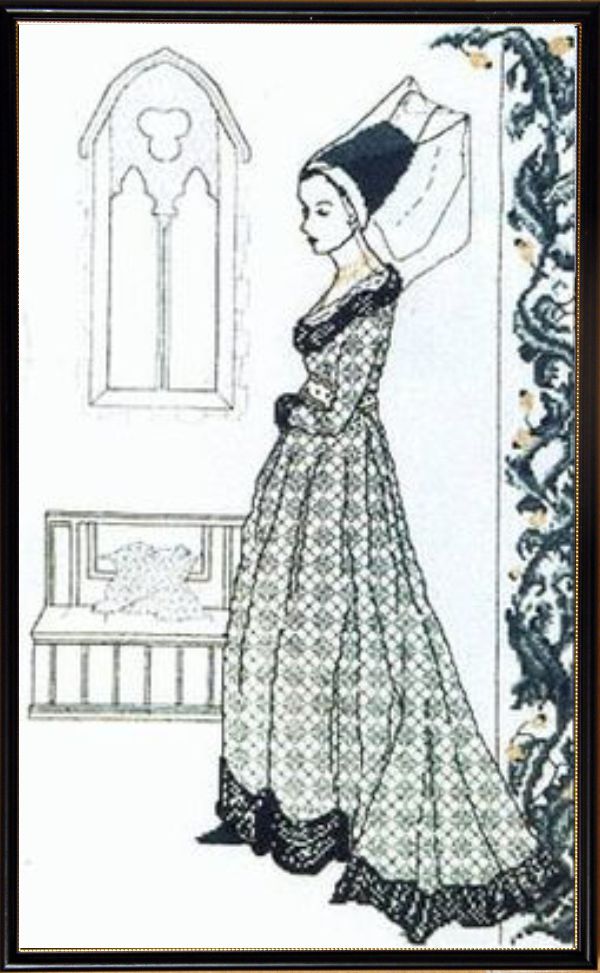 Jocelyn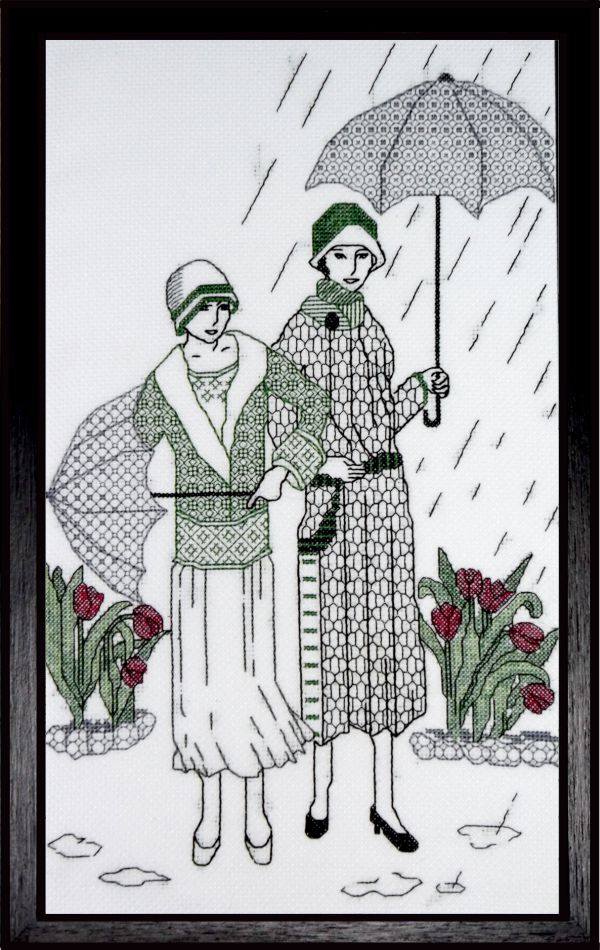 April
I was greeted by this tiny lady with a huge great big smile who simply exuded joy in her work. We started talking and shortly afterwards I was lucky enough to have these wonderful designs exclusively on my show stand.  All these years later I still stock them at shows, and now I have the greatest of pleasure to show them here for you all to enjoy. 

Blackwork is such a relaxing way to spend your time especially at the moment with so many of us having to stay at home.
There are stand alone pictures, pairs and triptychs. There are the 4 seasons plus a design for each month of the year, Some are in black work and some in bright vibrant colours. Some small projects and some larger.  All have been designed with a love of needlework that shines through with every stitch.
All of Shan's kits are carefully produced and available on a choice of 14ct Aida or 28ct Evenweave.  The charts are large and easy to follow and ample thread is supplied.  Most of her designs are suitable for even a novice to enjoy doing.  Some of the designs have more than just black thread in them creating a striking image and, don't worry if you feel the colours shown will clash with your decor, it is very easy to change them to suit.

Some of the designs have a little cross stitch in them as well and this adds an extra dimension which, in turn, may also be highlighted with glissengloss gold thread.
Included in each kit are really clear instructions, an after care sheet,  key chart where needed and a needle.