Catkin Angelica
The design Catkin Angelica is done using Black Work infill patterns to create a light delicate picture.  As you can see, the designer has changed from the traditional use of Black threads to these refreshing light greens and close shades.
If Greens do not fit in with your home decor, it is very simple to change the colours to something more suitable for your home. 
Catkin Angelica



This is the first picture in a delightful set of Two.  In warm shades of Greens and light Turquoise's through to Light Grey and Gold Filament,  this picture is light, stylistic and refreshing. Either stand alone or displayed next to it's partner picture, the finished design would look beautiful in any home.
The second of this pair is called "Gabriella" and can be seen by clicking here or by using the back button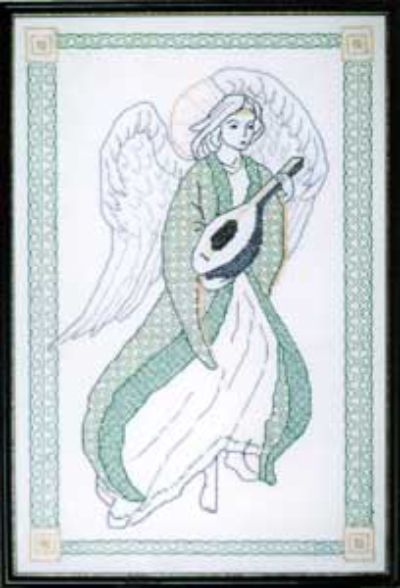 We do apologize, but this design is temporarily  unavailable. 
Please do not order until further notice.
If you would like us to let you know when Catkin designs are back in stock please send an email saying which design(s) you are interested in.  Thank you
Catkin:- "Great wings unfurled, she stands prepared to take flight and join the rest of the heavenly host in making music"

Stitch Size:-
14" x 9" 
 35.5cms x 23cms
Each Kit Contains:-

Large Scale B/W Chart
100% White Cotton 14ct Aida or 28ct Evenweave
DMC Threads, 
Instructions
Filament
Stitches Used
Backstitch with a small amount of Full Stitch

Number of Colours:-

When I stitched this design, i found it most useful to use a scroll frame as this kept the excess fabric clean and out of the way until i reached that part of the design where i needed it.