Catkin Cats and Mouse
This design Catkin Cats and Mouse is done using predominantly Black Work with a lattice infill as the back drop.  The cats are stitched using full stitch in both Black and shades of Grey. This project is one of a tryptich, the other two being Kitten and Snail and Blossom with Butterfly.
Catkin Cats and Mouse
For all of you who love cats, you will appreciate the nonchalance 
of these totally adorable trio of cats. The little mouse is making haste to escape when actually none of the three have the slightest inclination to move let alone chase a mere mouse!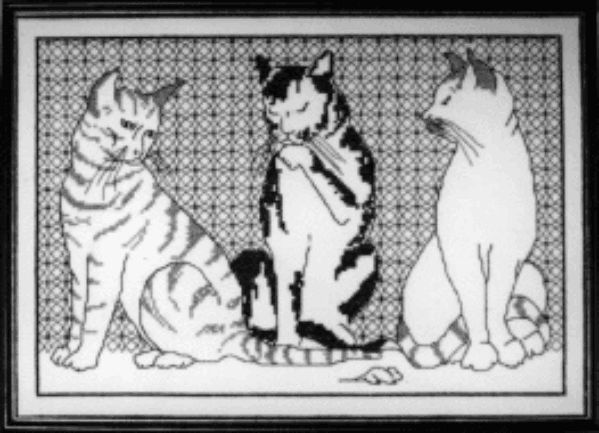 We do apologize, but this design is temporarily  unavailable. 
Please do not order until further notice.
If you would like us to let you know when Catkin designs are back in stock please send an email saying which design(s) you are interested in.  Thank you
Catkin:- "It's not that these well fed cats haven't seen a mouse before.... more a case of why bother?"
Each Kit Contains:-

Large Scale B/W Chart
100% White Cotton14ct Aida or 28ct Evenweave
DMC Threads
Needle
Instructions 
Stitch Size:-
13.5" x 9.3"  
 34.5cms x 23.5cms
Stitches Used:-
Back Stitch with a small amount of Full Stitch