Catkin Flirty 30s
Catkin Flirty 30s. 
Welcome to the Sophisticated 1930's. The era where dress lengths shortened up to the knees, Evening gowns showed a lot more skin, and floral prints and polka dots were all the rage.
Day wear changed considerably to become much more practicable. The tops were modest, the sleeves puffed and cuffed, and most had a slim body cut with a thin belt around the waist.
Below is a scene from an evening gathering.
Catkin Flirty 30s
Holiday parties dinners and of course the beloved winter balls were the highlights of all the extroverted glamourous guests. 
Velvet, Lace's, Satins and Silk were all highly popular for evening gowns, accompanied with long fur capes and coats.  Our lady here wearing the Red dress, is being very daring having so much skin showing and by the way the men are looking at her,  it's working !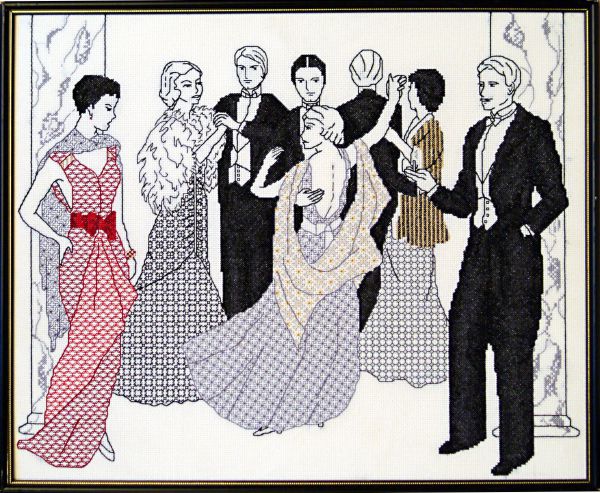 Normally ships in 1 week.

Catkin Quote:- "A much more sophisticated era than the roaring 20s"

Each Kit Contains:-

Large Scale B/W Chart
100% White Cotton 14ct Aida or 28ct Evenweave
DMC Threads 
Needle
Instructions 
Stitch Size:-
19" x 15.5" 
 48cms x 39cms
Stitches Used:-
Full Stitch and Back Stitch