Catkin June
Catkin June
I love this month. The days are long, the weather is warm and it's the month my mother was born in.  Many of the flowers in the borders are now in bloom creating a riot of colours and a glorious backdrop of scent.  ....Quote:- It is the month of June, the months of leaves and roses, When pleasant sights salute the eyes, And pleasant scents the noses. June was named after the Roman god Juno.

Catkin June
This months design shows an afternoon of playing croquet on the lawn.  A very fashionable and respectable game, and one that ladies were very good at.
In this picture we see both ladies in the same colour dress and both wearing the same wide rimmed hat with a ribbon... perhaps it was actually a team colour. 
With trees in the background, trailing plants on the wall and the ladies studiously playing all in all this makes a really lovely refreshing light picture.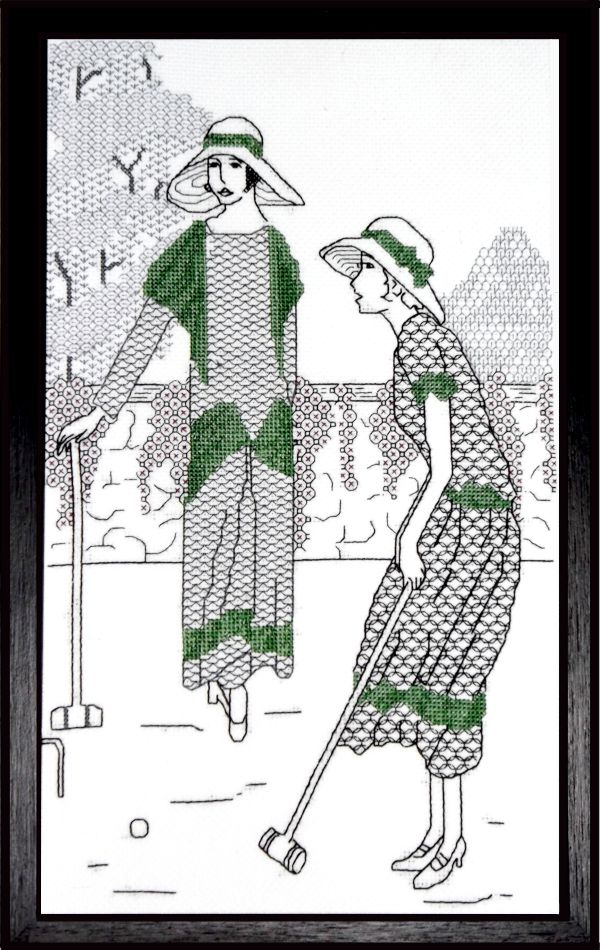 We do apologize, but this design is temporarily  unavailable. 
Please do not order until further notice.
If you would like us to let you know when Catkin designs are back in stock please send an email saying which design(s) you are interested in.  Thank you
June brings Tulips, Lilies, roses
fills the children's hand with posies.
Each Kit Contains:-

Large Scale B/W Chart
100% White Cotton 14ct Aida or 28ct Evenweave
DMC Threads 
Needle
Instructions 
Stitch Size:-
14.2"   x 8.6" 
 37cms x 22cms

Stitches Used
Full Stitch Backstitch