Catkin Kittens in the Magnolia
Kittens in the Magnolia
These three delightful kittens just cannot resist playing in this magnolia tree, though one might think they look a little uncertain on how to get down...
In warm shades of pink through to cream, these beautiful magnolia blooms are just perfect.. right before the spring leaves are budding, this picture is light, stylistic and refreshing. Either stand alone or displayed next to other pictures in the range, the finished design would look beautiful in any home.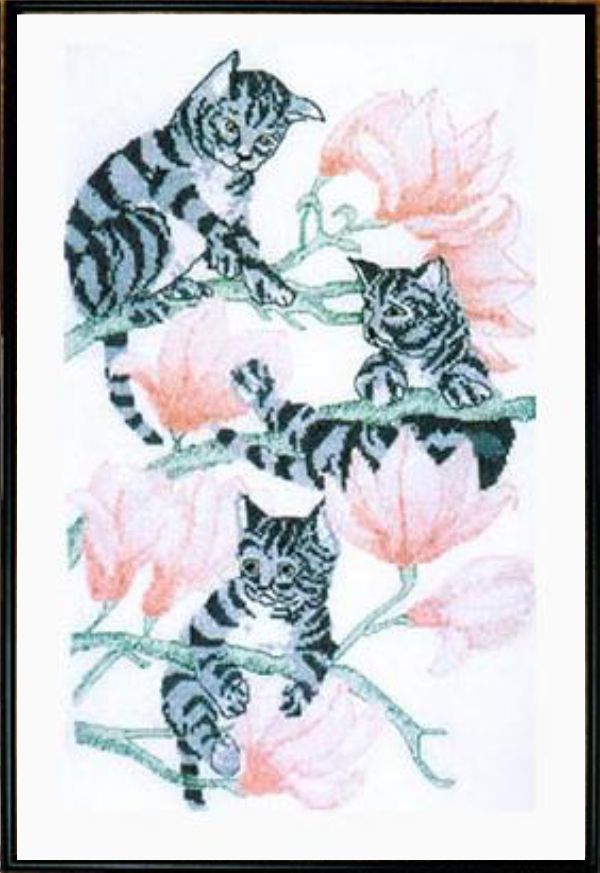 We do apologize, but this design is temporarily  unavailable. 
Please do not order until further notice.
If you would like us to let you know when Catkin designs are back in stock please send an email saying which design(s) you are interested in.  Thank you
Catkin Quote:- "My neighbours tree is an adventure playground as far as the local cats are concerned.  However young, they do always land on their feet!".

Each Kit Contains:-

Large Scale B/W Chart
100% White Cotton 14 Ct Aida or 28ct Evenweave.
DMC Threads 
Needle
Instructions 
Stitch Size:-
15.6" x 10"  
 40cms x 25.5cms


Stitches Used:-
Full Stitch Back Stitch