Catkin October
Catkin October
Named October because it used to be in the Roman calender,  the 8th month of the year "Octo" (meaning eight)
Autumn is well on us by this month, The leaves having turned the most fabulous colours .. Yellow's Orange's Brown's Red's and Purple's just to name a few. Many already lay scattered on the ground creating a carpet of the most amazing colours.
Catkin October


In thick coats and warm hats our ladies are out for a brisk walk and taking in the glorious colours of Autumn. Beautifully designed coats with really sympathetic infill patterns.  
Stitched in Black, grey and various Red's and Orange's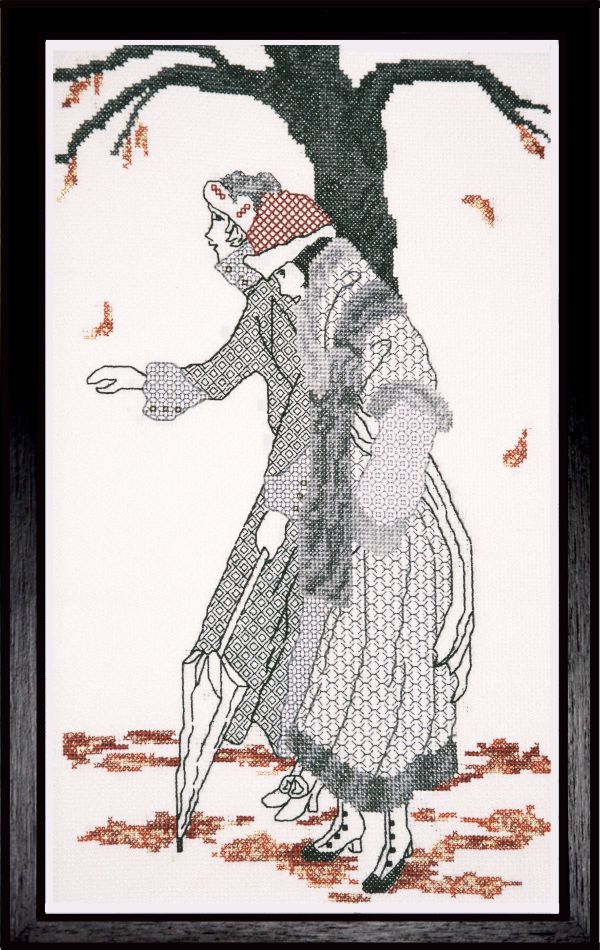 We do apologize, but this design is temporarily  unavailable. 
Please do not order until further notice.
If you would like us to let you know when Catkin designs are back in stock please send an email saying which design(s) you are interested in.  Thank you
"Fresh October brings the Pheasant,
Then to gather nuts is pleasant"
Each Kit Contains:-

Large Scale B/W Chart
100% White Cotton 14ct Aida or 28ct Evenweave
DMC Threads 
Needle
Instructions 
Stitch Size:-
14.2 " x 8.6" 
37cms x 22cms
Stitches Used
Full Stitch Backstitch