Catkin Teddy Love
This design Catkin Teddy Love is lovely for a child's nursery. Complete with a Jack-in-the-Box and of course that gorgeous teddy, Jago's face says it all
Catkin Teddy Love
This design utilizes both Red and Green in the design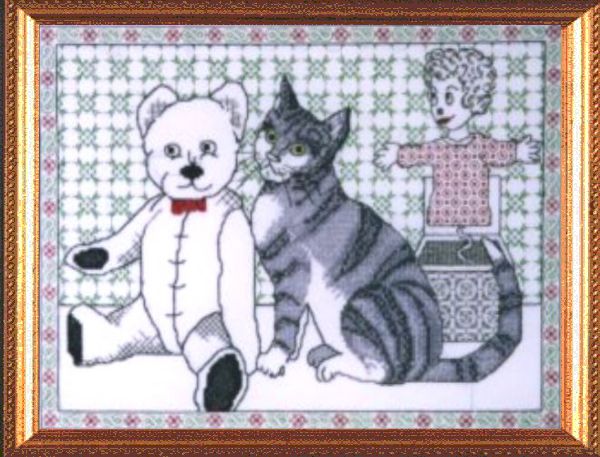 We do apologize, but this design is temporarily  unavailable. 
Please do not order until further notice.
If you would like us to let you know when Catkin designs are back in stock please send an email saying which design(s) you are interested in.  Thank you
Catkin:- "When my massive tabby Jago first moved in, the other cats hated him and for many monthshis only friend was my lodgers teddy bear."

Each Kit Contains:-

Large Scale B/W Chart
100% White 14ct Aida or 28ct Evenweave
DMC Threads
Needle
Instructions 
Stitch Size:-

12.5" x 9.5" 
32cms x 24cms
Stitches Used
Back Stitch and some Full Stitch