Catkin The Balcony
Catkin The Balcony.
Classic Hairstyling typical to the 20s.  The short cut Bob was every where sometimes worn straight, often worn curly. Some even had bangs.  Then there were Marcel waves and Finger waves and of course the Chignon for those who wanted to retain tradition but still have the short hair look.
Although not shown in this design there was also the "earphones" .. (a bit like how Princess Leia wore hers in starwars) and the Eton Crop... just to name a few
Catkin The Balcony
This trio are enjoying each others company standing outside on the balcony enjoying the scent of Lilacs in the afternoon air.  
Stitched using Black, Greys, Lilac and Green enhanced with Gold Filament.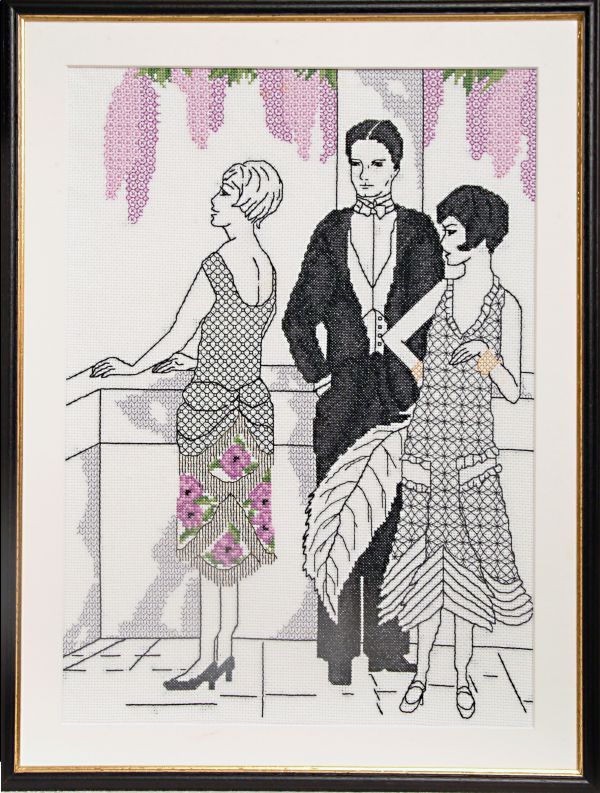 Normally ships in 1 week.

Catkin Quote:- "You can feel the heat of a summer evening and smell the hanging blossoms."

Each Kit Contains:-

Large Scale B/W Chart
100% White Cotton 14ct Aida or 28ct Evenweave
DMC Threads 
Needle
Instructions 
Gold Filament
Stitch Size:-
16" x 12.5" 
 42cms x 30cms
Stitches Used
Full Stitch and Back Stitch