Catkin The Milliners
Catkin The Milliners. On the shelf you can see an array of different hats. The fashion changes in the 1920's saw hats ranging from the Straw hat, (mostly worn during the summer months) sometimes decorated with a brightly coloured  ribbon right through to having flowers, fruits and other such fancies.  There were Sailor hats, Bicorn hats, Bucket hats, Tams and French berets, Toques wrapped in furs and of course the famous Closhe. 
In our design here there are several from that list and these ladies are trying out which of the latest fashion looks best on them.
Catkin The Milliners
For those of you who love this era, this design encapsulates the afternoon ritual of keeping up with the ever changing fashion conscious young people of the day.
Stitched in Blacks, Grey's, Greens and Reds.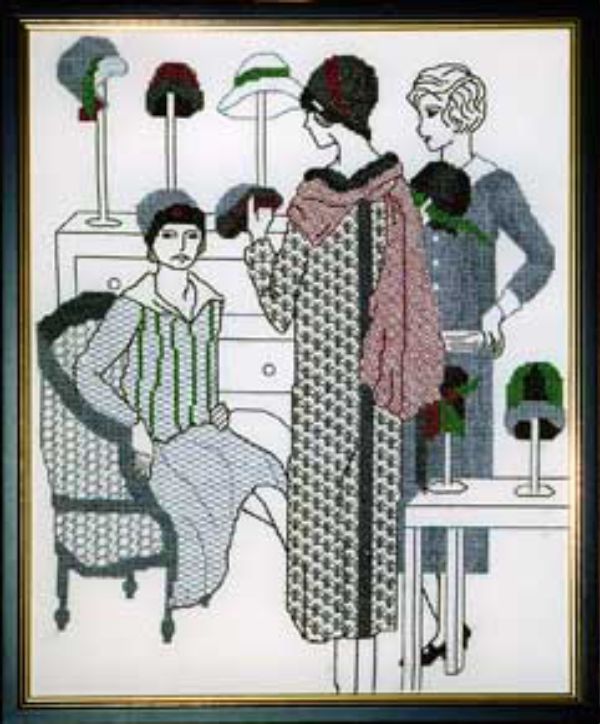 We do apologize, but this design is temporarily  unavailable. 
Please do not order until further notice.
If you would like us to let you know when Catkin designs are back in stock please send an email saying which design(s) you are interested in.  Thank you
Catkin quote:- "Nothing cheers a girl up more like shopping for hats!"

Each Kit Contains:-

Large Scale B/W Chart
100% White Cotton 14ct Aida or 28ct Evenweave
DMC Threads
Needle
Instructions 
Stitch Size:-
14" x 11" 
 35.5cms x 28cms
Stitches Used
Back Stitch with some Full Stitch