Catkin Venetian Carnival
Catkin Venetian Carnival
The first Venetian Carnival dates back to 1296 but it's origins are far older.There are records showing some sort of celebration was happening in 1094. It would have been a spectacular time as these celebrations went on for many weeks of festivities and fun. 
The wearing of masks made it even more fun as it hid  the "class" factor making it possible for any to ridicule the aristocracy. It was during this time that the writer Casanova spent his life between his well known love affairs and wild parties. 
At the end of the century the wearing of masks became forbidden and though the carnival survived it wasn't until 1979 that the tradition of masks was reintroduced in the way seen today.
Catkin Venetian Carnival
This charming couple are shown descending a flight of steps having just crossed over a narrow bridge with the well known closely built tall buildings in the background. He, still wearing his mask and the lady's, held down by her side.  Stitched in Black Grey Green and Gold filament.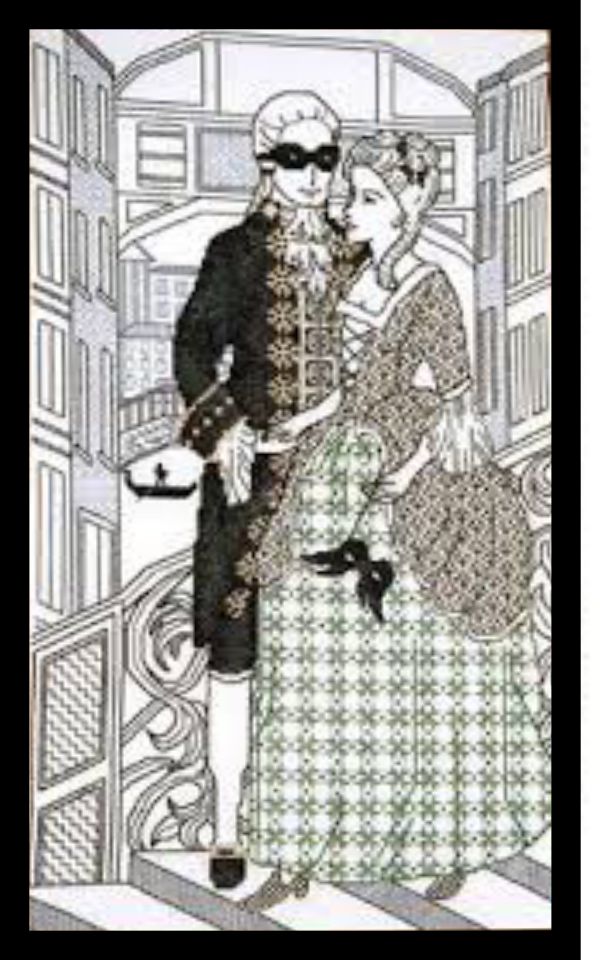 We do apologize, but this design is temporarily  unavailable. 
Please do not order until further notice.
If you would like us to let you know when Catkin designs are back in stock please send an email saying which design(s) you are interested in.  Thank you
Catkin:- "Venice.... arguably the most romantic city in the world; Carnival is a time of mystery and romance."

Each Kit Contains:-

Large Scale B/W Chart
100% White Cotton 14ct Aida or 28ct Evenweave
DMC Threads
Needle
Instructions 
Gold Filament
Stitch Size:-
18" x 10" 
 48cms x 26cms
Stitches Used
Back Stitch with some Full Stitch