google-site-verification=LDHgytvEyEUn8xH9TD4C7joUudq2Dsufq3PYJHrvyc4
Lanarte Magnolia Flower PN-0008163
Lanarte Magnolia Flower PN-0008163
This lovely Lanarte Magnolia Flower PN-0008163 is
 one of a set of three.  In delightful shades of dark pinks through to light creams  this project is a pleasure to both do and see.  
Traditionally a Spring flower, this picture has a light and airy feel with it and will bring warmth to your home any time of the year. I rather like the picture  frame used here.... It is light and airy yet with a nice texture. I think it suits the image.


Lanarte Poppies PN-0146360 
This lovely design taken from the artwork of Sylvie Fortin, shows Poppies Daisies and other wild flowers in a meadow with the blue sky and puffy white clouds peeking through the foliage. 
The Stitching is all full stitch and has a small amount of blending which adds to the delicacy of the design.  The design area is fully stitched too. Please be aware when ordering, that this kit is available on two different fabrics. 
There is another picture to make a pair.. .PN-0146359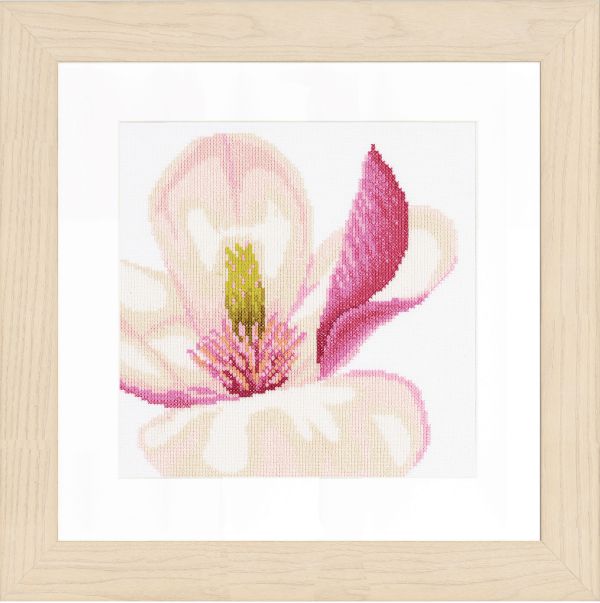 14ct Aida             = PN-0008305
27ct Evenweave = PN-0008163


 Normal price £22.27
Our Price  £18.37
Saving £3.89 (17.5%)
Lanarte Quote:- "Nearly a century of excellence and quality is only possible if you are constantly seeking out new challenges"

Stitch Size:-
8" x 8" 
20cms x 20cms
Stitch Count:-
105 x 105

Each Kit Contains:-

Large Scale B/W Chart
100% White Cotton 27ct Evenweave OR 14ct Aida
DMC Threads pre carded onto Yarn Organizer.
Needle
Instructions in :- 8 languages
Stitches Used:-
Full Stitch
Small amount of Blending

Number of Colours:- 12