Lanarte Protective Care PN-0008232
lanarte Protective Care PN-0008232 (Elephant and Calf)
This lovely picture of a mother Elephant with her trunk wrapped protectively around her small Calf late at night keeping an eye for any potential danger.  The Calf is huddled up close to it's mother and it's little trunk tentatively stretched out across it's mothers front leg.  This project is stitched entirely covering all of the fabric using whole cross stitch with just a few back stitches here and there.  The background is of the evening with faint fronds of plant life and a few clouds              
The Kit comes beautifully packaged in a box and the contents are wrapped in Orange Tissue. It is also part of a series. There is another to go with Protective Care-Elephant and Calf which is Maternal Instincts-Tiger and Cub,  This is an equally delightful picture of a mother tiger with her cub sleeping peacefully while she is keeping a watchful eye.
Both of these designs are taken from the Artwork of Ruanne Manning.
lanarte protective care PN-0008232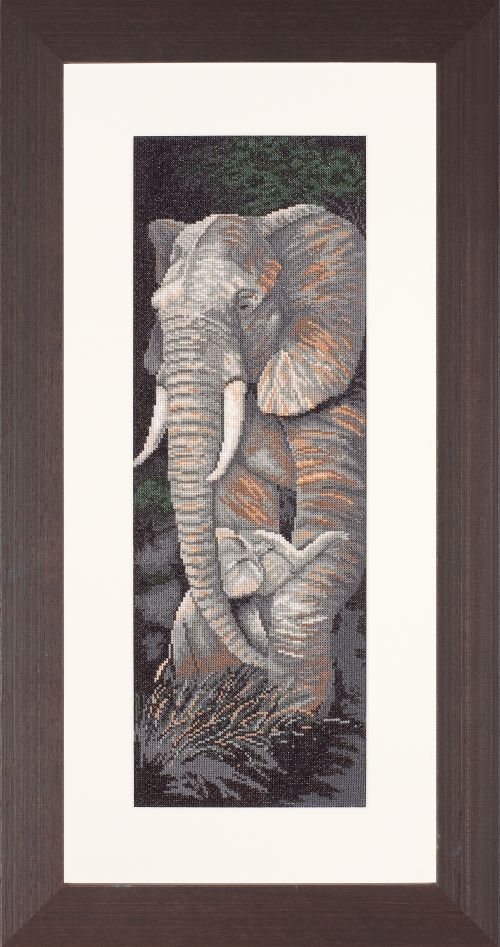 14ct Aida 
PN-0008232

Normal price £43.97
Our Price  £36.27
Saving £7.69 (17.5%)
Lanarte Quote:- "Nearly a century of excellence and quality is only possible if you are constantly seeking out new challenges"

Stitch Size:-
7" x 22" 
19cms x 55cms

Stitch Count:-
95 x 290

Stitches Used:-
Full Stitch
Small amount of Backstitch

Number of Colours:- 15
Each Kit Contains:-
Large Scale B/W Chart
100% White Cotton 14ct Aida
DMC Threads pre carded onto Yarn Organizer.
Needle
Instructions in :- 8 languages