Meineck Coat of Arms
To compliment the Cornish Map Landmarks of Kernow we have the Meineck Cornish Coat of Arms.

Meineck Coat of Arms
The Coat of Arms is a Crusader shield on which are  15 golden bezants (gold coins) in the shape of a triangle with the motto "One and All" 

The story of the 15 bezants came about because during the Crusades when the Duke of Cornwall was captured by the Saracens, they demanded a ransom of 15 bezants (bezants being gold coins named after Byzantium) was demanded. The people of Cornwall raised the money for the ransom and when paid the Duke was set free. As one and all had helped raise the money, One and All became the Cornish motto. 
The Tinner and the Fisherman are symbolic of Cornish industry and of course the Chough which is the national bird of Cornwall. Their nearly 30 year  absence ended in 2001 when a few pairs were spotted along the north cornish coast.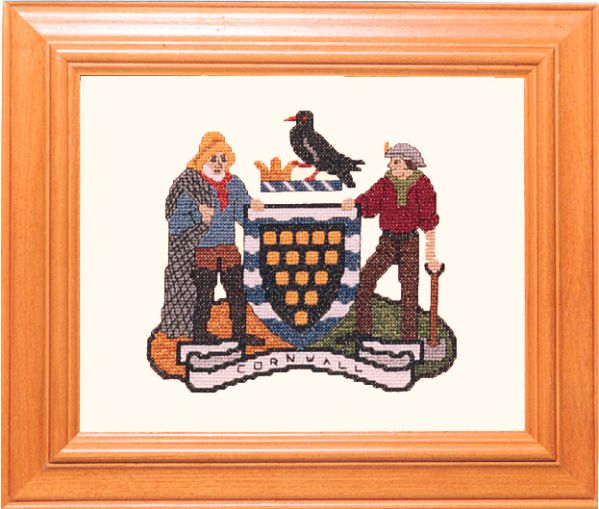 Normally ships within 1 week.

Stitch size:-
6.7" x 5.9"
171mm x 151mm

Each Kit Contains:-

Large Scale B/W Chart
100% White Cotton 27ct Evenweave OR 14ct Aida
Top Quality Threads
Needle
Instructions 
Thread Organizer Cards
Stitches Used
Full Stitch Quarter Stitch and Back Stitch

Number of Colours:-
18 Combination of  Dmc & Anchor