Meineck The Couldron
Meineck The Couldron
This is the fourth in the series of Sweet Granny Adams range in cross stitch.  Poor Granny, she really doesn't have much luck does she.... First she turns herself into a frog and now she's magicked herself into the cauldron!
Meineck The Couldron.

History shows that the cauldron is probably the most important part of a witch's tool kit.  Normally they tend to be a little smaller but granny, being a feisty old crone, thought to go one better and have a rather large pot. 
Several decades ago, Theo was, on purpose, turned into a tortoise by granny when he declined her proposals of marriage.  After locating her spell book, Theo is trying his new found wizzardry, casting a spell to make him human again....Granny may well be there for some time ....... tortoises are renowned for being rather slow... Here we can see Theo stirring with as much gusto as he can muster and granny getting rather hot and bothered.

The fabric in this kit is cut larger so you have the option to put your own caption if you wish and the kit includes the alphabet chart for you to do this.
or you can simply close frame this design with no words.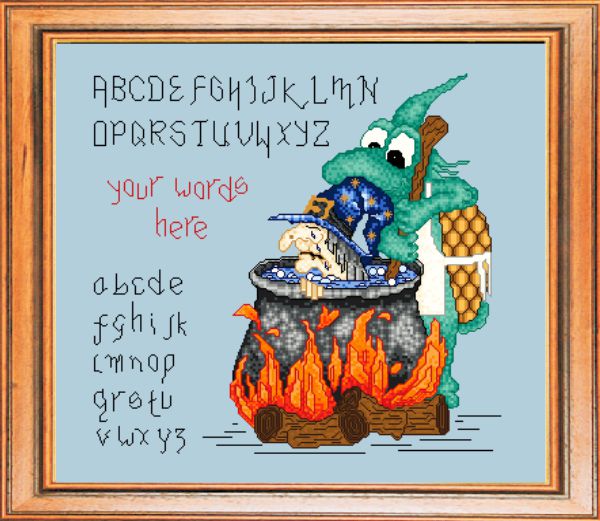 Normal price £26.50
Our Price  £22.50
Saving £4.00
Stitch Size:-
10.7" x 10.2" 
27.2cms x 25.9cms
Stitch Count:-
150 x 143

Each Kit Contains:-
Large Scale B/W Chart
100% Blue Cotton 14ct Aida 
Top Quality Threads
Metallic thread  
Yarn Organizer.
Needle
Instructions 
Stitches Used:-
Full Stitch
Small amount of Blending

Number of Colours:- 28
Combination of Anchor and DMC