Meineck Earth Dragon
Meineck Earth Dragon
The original art work was done by the world renown artist Peter Pracownik .
Earth Dragon is one of the four elemental Dragons representing Earth, Air, Fire and Water.
In 1996 Peter granted the sole world wide licence to Sherry Symes-Meineck to put any of Peter's artwork into Cross stitch and Needle Work related designs. 
Earth Dragon was Sherry's first Dragon Cross Stitch design and was released in 1996.

Earth Dragon also represents the birth signs of Taurus, Capricorn and Virgo, the suit of Penticles in the Tarot and Heh (final) Completion of energy into form in the Tetragrammaton.  Earth Dragon also is the 21st and final card in the Major Arcana

Meineck Earth Dragon
As well as being known for the above, in the Tarot, Earth Dragon is also known as The World
The World represents an ending to a cycle of life, a pause in life before the next big cycle begins with the fool. It is completeness.It may represent our  consciousness of the heavens; the potential of perfect union with the One Power or God of the universe.Often in life we do a lot of taking ... this card tells us we can only really have full happiness and completeness when we give back what we have learned or share what we have gained.
Stitched in calming shades of Greens and Blues this gorgeous Dragon brings with it a peace and comfort that is someting sought after in out hectic lives.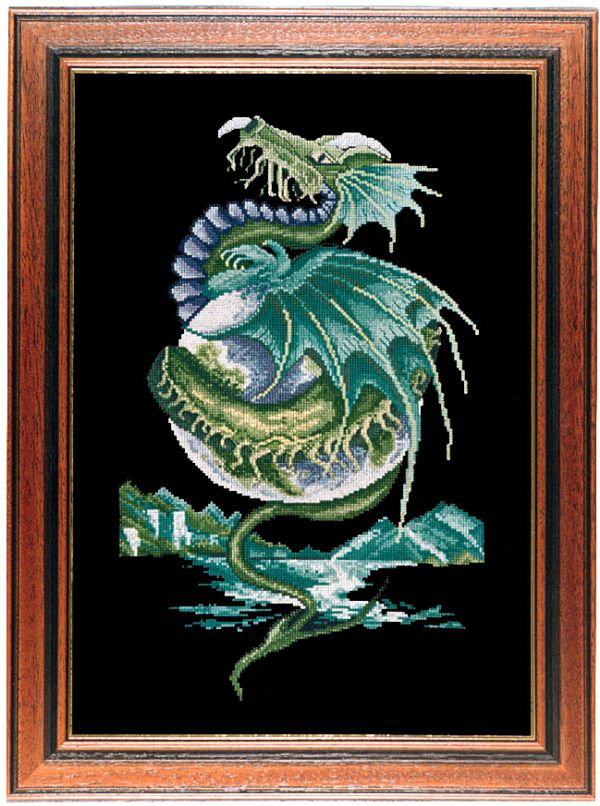 Copyright Sherry Symes-Meineck MDG 1996.  Reproduction Prohibited.
An absolute must have! A massive 20% off this fabulous kit
Currently in Stock
This design is also available as a chart and includes
Large easy to read Chart, 
Instructions including tips & other helpful information, Backstitch reference Chart, Key Chart,
Stitch Guide 
Materials required list.
Currently in Stock
Normally ships within 1 week.

Stitched size 
9.75" x 16.5"     252mm x 412mm


Each Kit Contains:-

Large Scale B/W Chart
100% Black Cotton 27ct Evenweave OR 14ct Aida
Anchor Threads
Thread Organizers
Needle
Instructions
Stitches Used
Full Stitch Quarter Stitch and Back Stitch

Number of Colours:-  26
Anchor Thread