Meineck The Alchemyst
Meineck The Alchemyst
The original art work was done by the world renown artist Peter Pracownik  In 1996 Peter released "The DragonTarot Suite" and is one of the cards from the Minor Arcana
In 1996 Peter granted the sole world wide licence to Sherry Symes-Meineck to put any of Peter's artwork into Cross Stitch and Needle Work related designs. 
The Alchemyst was subsequently put into Cross Stitch by Sherry and released in 2000 

The Alchemyst is also known as The Ace of Wands. This card Belongs in the Minor Arcana
Meineck The Alchemyst


This card represents new beginnings based on trial and error.. experimenting .. testing.. and then evaluating.  
It can show a single mindedness to complete a task. 
Here you can see a glowing light emanating from his wand, the fire stand with Ivy entwined around it,  on the table a book of learning and around him we see implements used by him to create Alchemy and magic.
This design is enhanced with the use of Metallic and Filaments.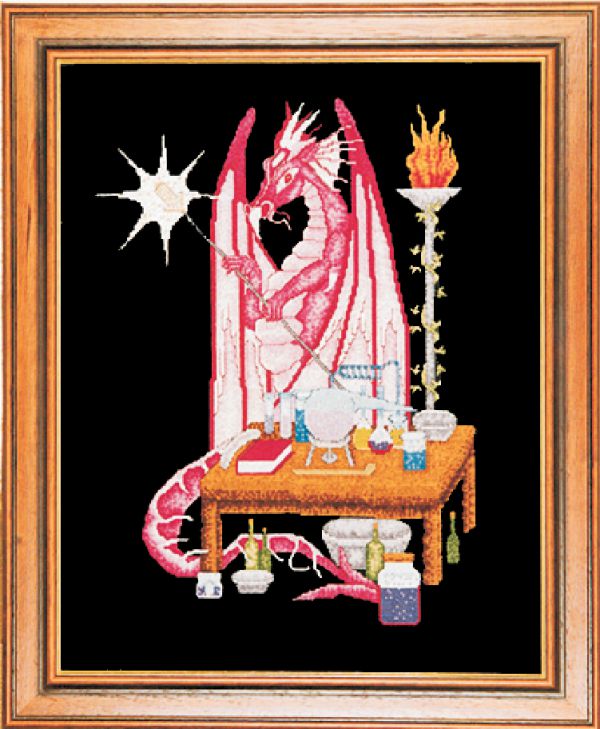 Copyright 2000 Sherry Symes-Meineck MDG.  Reproduction prohibited.
Star Buy
A massive 20% off this kit
Currently in Stock
This design is also available as a chart and includes
Large easy to read Chart, 
Instructions including tips & other helpful information, Backstitch reference Chart, Key Chart,
Stitch Guide 
Materials required list.
Currently in Stock
Normally ships within 1 week.

Stitched size 
12.25" x 16.5"     306mm x 412mm
Frame Size 14" x 18"

Each Kit Contains:-

Large Scale B/W Chart
100% Black Cotton 27ct Evenweave OR 14ct Aida
Top Quality threads
Yarn Organizer
Needle
Metallic / Filaments
Instructions 
Stitches Used
Full Stitch Quarter Stitch and Back Stitch

Number of Colours:-  40
Combination of  Dmc & Anchor
Metallic & Filaments