Meineck The Emperor
Meineck The Emperor
The original art work was done by the world renown artist Peter Pracownik and released in ****.
In 1996 Peter granted the sole world wide licence to Sherry Symes-Meineck to put any of Peter's artwork into Cross stitch and Needle Work related designs. 
The Emperor is the 4th card in the Major Arcana.  This Dragon shows Authority, temporal power and Authority.   This is a powerful Dragon, That has enormous self control through experience.
The Emperor is  Sherry's 16th Dragon Cross Stitch design
Meineck The Emperor
Sitting atop a barren Ice mountain, which is a sign of sterility of regulation and unyielding power.He holds an World Orb in his hand which is the symbol of domination and an Arrow Scepter in his claw

He symbolizes the top of the secular hierarchy.This card is symbolic of the Male Ego :)  The Emperor is the absolute ruler of the world.
 Either stand alone or displayed next to the partner pictures, the finished design would look beautiful in any home.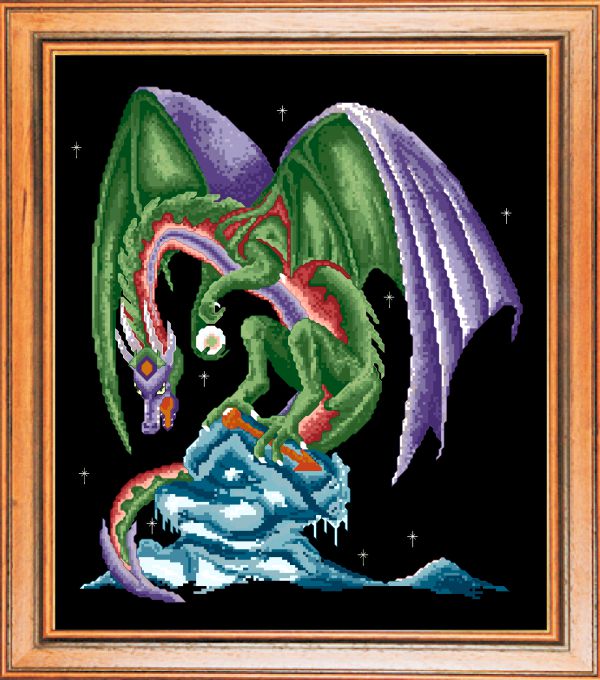 Copyright 2019 Sherry Symes-Meineck MDG.  Reproduction Prohibited
Currently in Stock
Normally ships within 1 week.

Stitched size 
12.4" x 14.0"    
314mm x 356mm

Each Kit Contains:-

Large Scale B/W Chart
100% Black Cotton 14ct Aida or 27ct Evenweave
Top Quality Threads
Thread Organizer Cards
Metallic / Filament
Needle
Instructions
Stitches Used
Full Stitch Quarter Stitch and Back Stitch

Number of Colours:-  32
Combination of  Dmc, Anchor  & Metallic