The Flying Cleaner  
(also known as Sweet Granny Adams) By Meineck Design Group
The Flying Cleaner Is the first in the series of the Sweet Granny Adams range in Cross Stitch.
This feisty old Witch absolutely loathes housework.  Do you blame her... I don't!  I know I much prefer to be doing something else.... normally cross stitching though I have been known to think about exercising too.  
The Flying Cleaner 

We have always been led to believe that witches used broomsticks but actually they were so far ahead of their time, they had to hide there hoovers  until they became house hold common place else every one would have known they were a witch...........  A small spell here and there has levitated this hoover into a modern day flying machine
There are various reason witches have huge noses ... one of course is to be nosy (that goes with out saying), and another is having it constantly pulled as a child when learning their craft.  Obviously one has to have a huge beak to accommodate the obligatory Wart!!!. but, perhaps more importantly, is because they are used as an inbuilt  flight stabilizers..... 
Flight Lieutenant Gertrude Gintrick clings on precariously as Sweet Granny Adams goes whizzing through the clouds  (ready to break into) no doubt aerobatics and other such frivolities ..  As a result of this, Ginnie's nerves frayed.  She vowed to invent a tonic ... This she did and it was so effective she decided to call it after herself... Ginnie and the Tonics (this does actually sound like a pop group) which of course got shortened over time to Gin and Tonic........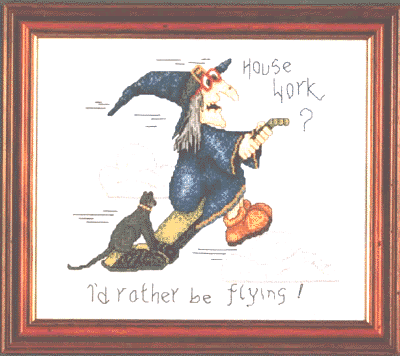 Each Kit Contains:-
Large Scale B/W Chart
100% Blue Cotton 14ct Aida 
Top Quality Threads
Metallic thread  
Yarn Organizer.
Needle
Instructions 
 Normal price £26.50
Our Price  £22.50
Saving £ 4.00

Stitch Size:-
10.4" x 9.4"  
26.5cm x 23.8cm
Stitch Count:-
146 x 131

Stitches Used:-
Full Stitch
Quarter Stitch
Back Stitch

Number of Colours:- 27
Combination of Anchor and DMC Threads.
Filaments