X-Calibre Japanese Lady by Carol Leather
X-Calibre Japanese Lady.  A Stunning Oriental Design showing the lady wearing the traditional robes, with her hair beautifully styled and with a fan in her hand.
X-Calibre Japanese Lady
This absolutely gorgeous design is simply elegance class and quality all rolled into one.

Using shades of light blue / turquoise floss, highlighted with silver filament and embellished with beads this is a pleasure to stitch.  The Japanese lady has been one of my most favorite designs to stitch and enjoys pride of place at home in my lounge.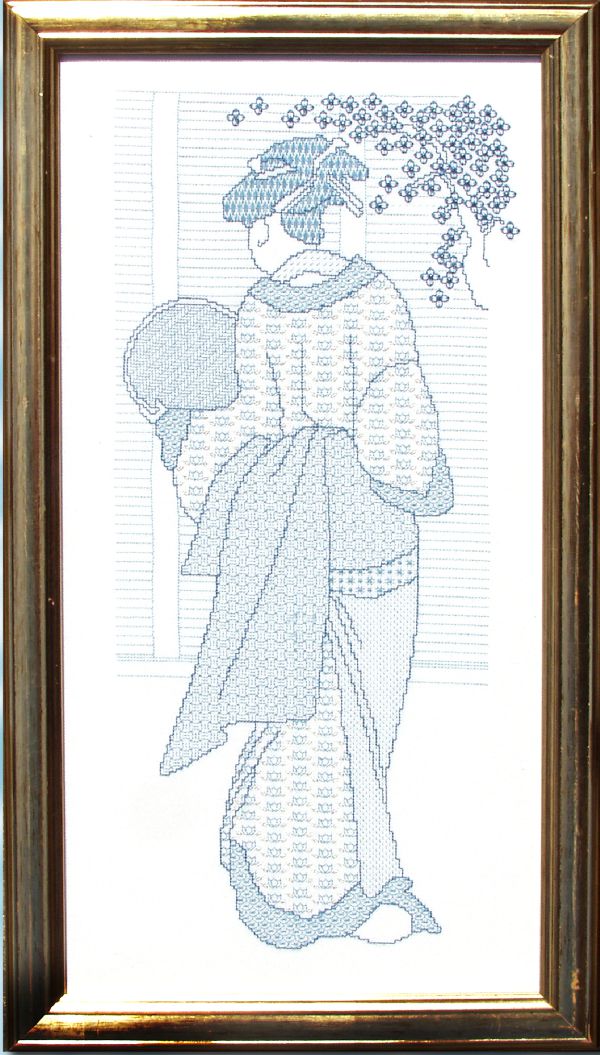 This kit comes with a choice of fabric, please enter which you prefer in the Fabric Choice box below.

The Japanese Lady is also available in Black & Gold Please enter your choice in the colour options box below.
All X-Calibre kits and chart prices are inclusive of postage and packaging, so there are no nasty hidden extras at the 
check out. Just select the product with the right Country you live in.
Normally ships within 1 week.
XC615
Each Kit Contains:-

Large Scale B/W Chart
100% White Cotton 14ct Aida or 28ct Evenweave
DMC Threads 
Needle
Instructions 
Filament
Beads
2 different colour ways available:- Blue & Silver or Black & Gold. Please ensure to enter your choice.

Stitch Size:-
8.9" x 19.9"  
22.7cms x 50.6cms
Stitch Count:-
120 x 120
Stitches Used
Back Stitch

Number of Colours:- 3

Code XC-615