X-Calibre Jasper By Carol Leather
X-Calibre Jasper
This is the first picture in a delightful pair. Stitched in black, with warm shades of deep plum for his cravat and waistcoat finished off with 4 pearl beads for buttons, Jasper looks every inch the gentleman he is. There is a very small amount of cross stitch in this design.

X-Calibre Jasper 

Here he is listening to the gramophone
 and watching at a distance, the ladies dancing.
This picture is timeless, stylistic and refreshing.
Either stand alone or displayed "Coral" and  "Pearl", the finished design would look beautiful in any home.
Jasper is also available as a chart.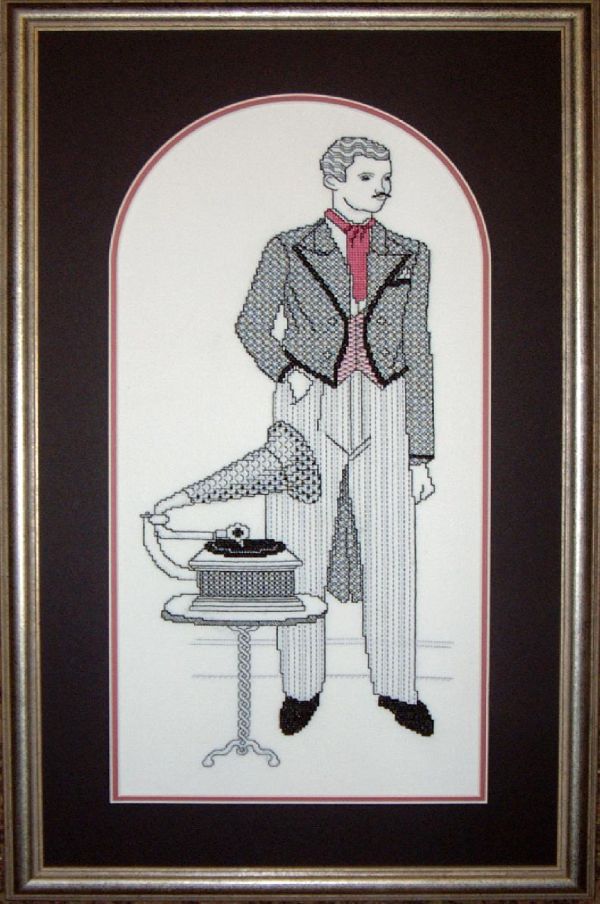 This kit comes with a choice of fabric, please enter which you prefer in the Fabric Choice box below.

All X-Calibre kits and chart prices are inclusive of postage and packaging, so there are no nasty hidden extras at the check out. Just select the product with the right Country you live in.

Normally ships within 1 week
Each Kit Contains:-

Large Scale Chart
100% White Cotton 14ct Aida or 28ct Evenweave
DMC Threads 
Needle
Instructions 
Beads
Stitch Size:-
8.1" x 18.6"  
20.5cms x 47.4cms
Stitch Count:-
113 x 261
Stitches Used
Full Stitch Back Stitch

Number of Colours:- 4

Code XC-610