X-Calibre Marina. A Fantasy Black Work of a Mermaid by Carol Leather
X-Calibre Marina. Well known for being a mythological creature, this Mermaid is sitting on a rock shimmering in the sunlight drying her hair. 
One of the oldest myths originates from Ancient Greece, where legend claims that Alexander the Great's sister Thessalonike, was turned into a Mermaid upon her death and, then lived in the Aegean Sea.
X-Calibre Marina
Stitched in sea foam green's this delicate mermaid shimmers in the sunlight with the use of silver filament.
By following the pattern diagram you will see how to build up from a basic fill and by adding more lines, into a darker fill to give light and shade. 
Similar to assisi work, only her shaded area's are stitched on her body leaving her outline empty and therefore more predominant.

Should you choose to purchase the chart, this design is also perfect for experimenting with randomly dyed threads.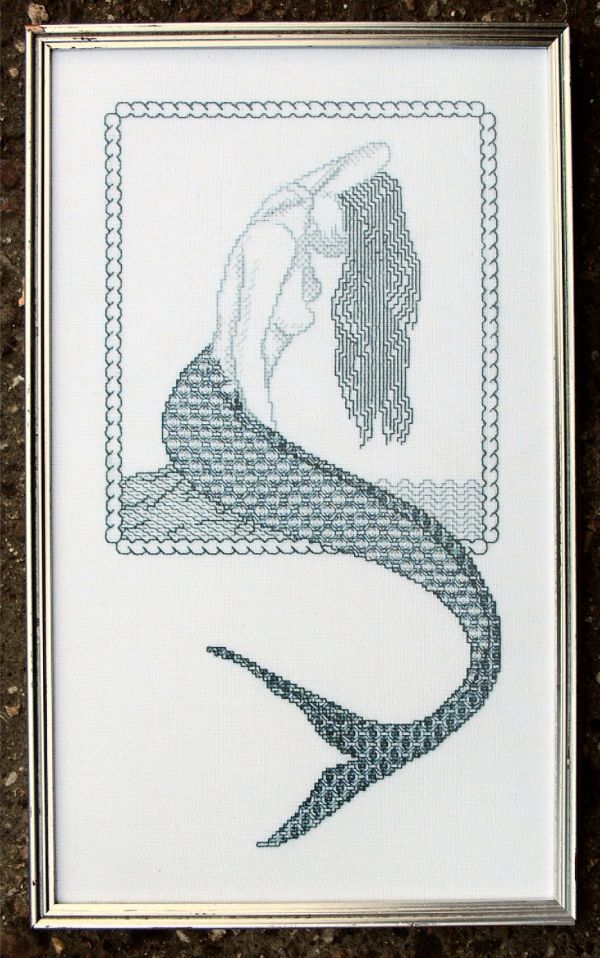 This kit comes with a choice of fabric, please enter which you prefer in the Fabric Choice box below.
All X-Calibre kits and chart prices are inclusive of postage and packaging, so there are no nasty hidden extras at the check out. Just select the product with the right Country you live in.
Normally ships within 1 week

Each Kit Contains:-

Large Scale Chart
100% White Cotton 14ct Aida or 28ct Evenweave
DMC Threads 
Needle
Instructions
Silver Filament
Stitch Size:-
7.6" x 14.4" 
19.2cms x 36.5cms

Stitch Count:-
105 x 201
Stitches Used
Back Stitch

Number of Colours:- 5

Code XC656