X-Calibre Rocking Horse By Carol Leather
The X-Calibre Rocking horse one of three in the "Beginners" range.
This pretty little design is small but very effective. Designed especially for those of you who have never done blackwork before, the fill patterns used are a great way to learn.
Not only can you use this as a picture on the nursery wall, but, in an aperture card to send to a friend or family member on the birth of their child, if you wanted, you could add some details of the child for example their name and  D.of B. time of birth and weight in the top left hand corner, or maybe underneath the rockers.
The Rocking Horse is available on either 14ct Aida or 28ct Evenweave.
The X-Calibre Rocking Horse XC-600/1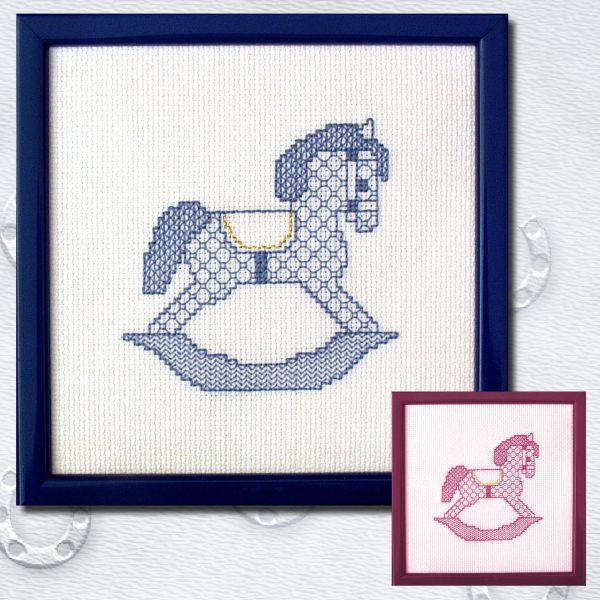 The X-Calibre Rocking Horse comes with both blue and pink threads as well as gold filament to add that extra touch of sparkle.
This pretty design comes in a choice of fabric, please enter which you prefer in the fabric choice box below.


All X-Calibre kits and charts are inclusive of postage and packaging, so there are no hidden extras at the checkout, just select the product with the right country you live in.

---
---
Normally ships within 1 week.

Stitch Size:-
3.9" x  3.8"  
9.8cms x 9.6cms
Stitch Count:-
54 x 53

Each Kit Contains:-

Large Scale Chart
100% White Cotton 14ct Aida or 28ct Evenweave
DMC Threads 
Needle
Comprehensive Instructions 
Gold Blending Filament
Stitches Used:-
Back Stitch Full Stitch

Colours Used:- 1

Code  XC-600/1
The rocking horse here dates back to the 17th century, but originally it started with being a "hobby horse" and then a Barrel horse (a barrel with 4 wooden legs and something resembling a head). By the 18th century, they had taken a more traditional shape such as our rocking horse here. 
By Victorian times, this nursery toy had gained so much popularity, classically the Dapple Grey .. they could be found in one form or another in most houses... the "rocking ones" being deemed the safest as it was less likely to turn over. 
The 14-18 war saw a sharp decline and it wasn't until about 30 years ago that their popularity started to re-emerge with several master craftsmen making them again, this time using a variety of different materials from the more traditional wood and laminates right through to preformed plastics and cloths.
The older rocking horses are very sought after collectors items and some are worth a huge amount of money.