X-Calibre Sunday Best by Carol Leather
X-Calibre Sunday Best. Sepia Black Work Design by Carol Leather
X-Calibre Sunday Best
Such an elegant picture.  This graceful picture of a victorian mother and daughter on an outing together is really different.  
Here our model is stitched using Back Stitch in dark brown and highlighted with Gold Filament. Sunday best is also available in Pink with Silver filament and Purple with Gold Filament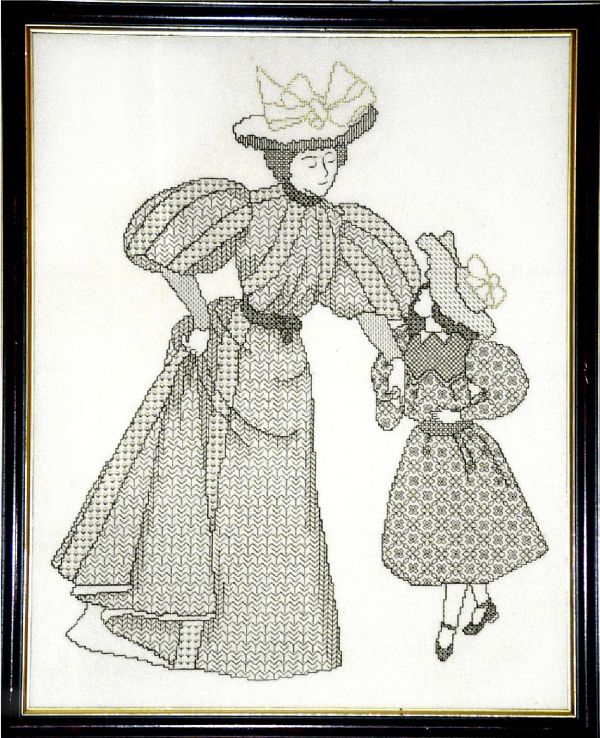 This kit comes with a choice of fabric, please enter which you prefer in the Fabric Choice box below.

Sunday Best is also available in different colour ways. Please enter your choice in the colour options box below.
All X-Calibre kits and chart prices are inclusive of postage and packaging, so there are no nasty hidden extras at the check out. Just select the product with the right Country you live in.
Normally ships within 1 week
Each Kit Contains:-

Large Scale Chart
100% White Cotton 14ct Aida or 28ct Evenweave
DMC Thread
Needle
Instructions
3 different colour ways available:- Sepia & Gold, Purple & Gold, Pink & Silver. Please ensure to enter your choice.
Stitch Size:-
14.9" x 18.2"  
37.7cms x 46.3cms
Stitch Count:-
208 x 255
Stitches Used
Back Stitch
Number of Colours:- 1

Code XC-611