X-Calibre The Unexpected Guest by Carol Leather
Based in a Parisian cafe in the 1920's. There are lots of different fill patterns used here to highlight and accentuate light and shade and make a lovely addition to your blackwork portfolio of fills. Gold blending filament is used in the ladies hat, necklace and handbag. There is a small amount of cross Stitch in the picture.
X-Calibre The Unexpected Guest. 1920's Black Work Design by Carol Leather.
One has to wonder what the couple were engrossed talking about before the guest appeared....by the look on the ladies face, she's listening intently to what the new comer is saying .... what ever is she thinking?
I like the way the word "Cafe" is opaque. It's there but in the background.
Looks great as a stand alone picture..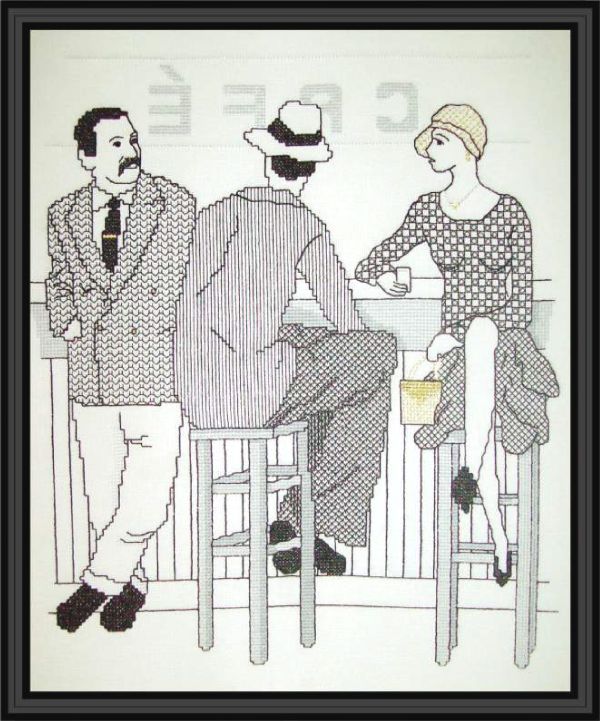 This kit comes with a choice of fabric, please enter which you prefer in the Fabric Choice box below.

All X-Calibre kits and chart prices are inclusive of postage and packaging, so there are no nasty hidden extras at the check out. Just select the product with the right Country you live in.
Normally Ships within 1 week.
Each Kit Contains:-

Large Scale Chart
100% White Cotton 14ct Aida or 28ct Evenweave
DMC Threads 
Needle
Instructions
Gold Blending Filament
Stitch Size:-
11.0" x 12.9"  
 27.9cms x 32.8cms

Stitch Count:-
154 x 181

Stitches Used:-
Full Stitch Back Stitch

Number of Colours:- 3

Code XC-609